Carrie Newcomer
BIOGRAPHY
Performance Formats: solo, duo, or other special projects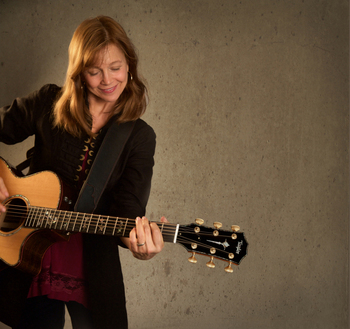 Carrie Newcomer
conversational, introspective songwriting that celebrates and savors the ordinary, yet sacred, moments of our lives

Online/streaming offerings:
Concerts (which can be themed or customized to a specific audience)

Variety of workshops and mini-retreats exploring the intersection of creativity and spirituality


"To my mind — a writer's mind — Carrie Newcomer is much more than a musician. She's a poet, storyteller, snake-charmer, good neighbor, friend and lover, minister of the wide-eyed gospel of hope and grace. All this, and she comes with a voice that declares, 'Sit down here a minute and listen.' Who could ask for more?"
— Barbara Kingsolver (Author, The Poisonwood Bible)

"Carrie Newcomer - a great gift to humanity. Her music - a great gift to our souls."
— Jill Bolte Taylor (Author, My Stroke of Insight)

"I love Carrie Newcomer. She writes and sings about what is most personal to her and in doing so she speaks to the wider world. Her song 'Geodes' will make you catch your breath with its wisdom and beauty."
— Mary Chapin Carpenter

Carrie Newcomer is a songwriter, recording artist, performer, and educator. She has been described as a "prairie mystic" by the Boston Globe and, "asks all the right questions," by Rolling Stone, "a voice as rich as Godiva chocolate." by The Austin Statesman, and, "She's the kind of artist whose music makes you stop, think and then say, 'that is so true.'" by The Dallas Morning News. Recent appearances on PBS's Religion and Ethics and the National Award Winning Krista Tippett's On Being, have focused on her use of creative art-form as a spiritual/mindfulness practice, her work in social/ environmental justice, interfaith dialogue, progressive spirituality and as a champion for a new political conversation.

She has toured with Alison Krauss in Europe and the United States. Nickel Creek recorded Newcomer's song, "I Should've Known Better," on their Grammy-winning album, This Side. In the fall of 2009 and 2011 Newcomer was a cultural ambassador to India, invited by the American Embassy of India. In October 2011 she released her interfaith collaborative benefit album, Everything is Everywhere, with world master of the Indian Sarod, Amjad Ali Khan. In June 2012 Carrie Newcomer traveled to Kenya, Africa, performing in schools, hospitals, spiritual communities and AIDS hospitals. In 2013 Carrie visited organizations dedicated to nonviolent conflict resolution through the arts and the empowerment of women in the Middle East. Huffington Post Religion Community listed her song, "Holy as the Day is Spent," as one of the best spiritual songs of 2012. She was listed as one of "the 50 most influential folk musicians of the past 50 years" by Chicago's WFMT. Boston's WBEZ listed her as one of the most influential folk artists of the last 25 years.

Her newest release is The Beautiful Not Yet (Available Light Records, September 2016). Other Available Light recordings include A Permeable Life and Everything is Everywhere. Newcomer also has 14 nationally releases on the Concord/Rounder Records including; The Geography of Light, The Gathering of Spirits, and Before and After. In 2014 Newcomer also released her first companion book, A Permeable Life: Poems and Essays. Over half the songs on The Beautiful Not Yet were created for a spoken word/music collaboration with Parker J. Palmer entitled, What We Need is Here: Hope, Hard Times and Human Possibility.

Newcomer's first theatrical production, Betty's Diner: The Musical, was produced as part of the Purdue University 2015/2016 theatrical season to rave reviews and a totally sold out run. The music for Betty's Diner: The Musical was written in collaboration with Richard K. Thomas and arranged by Gary Walters. Other recent collaborations with influential authors, scientists and theologians, include; Jill Bolte Taylor, Phillip Gulley, Scott Russell Sanders and Rabbi Sandy Sasso.



Workshops, Master Classes, and Residency Activities
Carrie is available to facilitate a variety of customizable workshops, including:
• Writing Mindfully: Exploring the Sacred Ordinary
(Song or Creative Writing)
• Transformative Stories (Song or Creative Writing)
• That's My Job: An Exploration of Calling and Vocation

Carrie is also available to present customizable keynotes and sermon messages, including:
• Finding the Sacred in the Ordinary
• Music, Writing, the Arts and Spirituality

She has presented workshops at dozens of campuses and venues around the U.S. and is often sought out for her unique perspective and ability to help participants reach deep inside to develop their own creative voice. Excellent curriculum and support materials are available upon request.